10 Great Conservatory Interiors
10 ideas for Conservatory Interiors
If you have the space, there's really no limit to what you can get out of your conservatory interior. Here are a few ideas so that you can get the most, whatever you decide.
A COSY SPACE
Everyone loves a space they can cosy up alone or with loved-ones. By making use of neutral colours, and plush, soft materials, you can create an area where you can feel at peace. It doesn't take up a lot of space, so it's perfect for smaller conservatories.
A READING ROOM
Solitary reading is one of the great joys of life for many people. Decorating a smaller conservatory with rustic furniture, and perhaps installing a faux-fireplace, make this a perfect space to read to your heart's content. You can almost hear the rain pattering on the roof.
COFFEE MORNINGS
When it's not quite warm enough to sit outside, you might consider turning your conservatory into a coffee or brunch hotspot. Just by adding a few chairs and coffee table, along with a few plants, you'll create an atmosphere where you'll want to chat away the hours.
SUMMER DINING
A conservatory mainstay, summer dining rooms are an excellent use of space. Swing the doors and windows wide, and enjoy an evening with friends. This is an easy one, just add dining table and chairs, some nice lighting, and voila, you're good to go.
HOT TUB/POOL
If you've got a little space, a hot tub could be a nice addition to your conservatory. If you've really got space, an indoor pool is a dream. Just imagine relaxing in either fixture listening to the evening rain pattering down. Paradise.
PLANT/FLOWER GARDEN
If you have a small space, and some good sunlight, you could turn your conservatory into a plant or flower garden. Or both. This is also a great place to relax with a book on a summer day.

LINK TO THE MAIN HOME
A great use of a conservatory is to extend open plan space from your home, particularly a kitchen. Adding a conservatory onto your kitchen means you could have an excellent dining area that isn't far from the stove.

FAMILY SUMMER AREA
If you've got a spacious conservatory, a big garden, and a bigger family, your conservatory can serve as a great hub during family gatherings. Throw open the doors and let the children run free, while the adults can watch in peace from the inside. Or the outside if they're a big kid themself.

KITCHEN
If you've got the space and the money for a complete home reshuffle, you could turn your Conservatory interior into a kitchen. The glass roof adds a completely different atmosphere to the room, meaning it can be bright and sunny during the day, with a clean, peaceful atmopshere at night.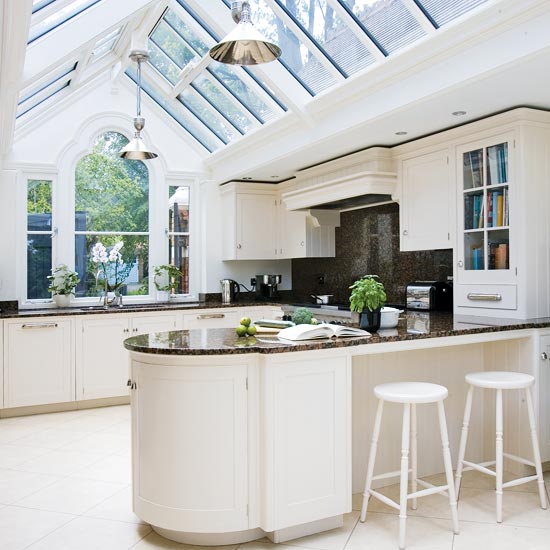 TV ROOM
Finally, the old classic. A family TV room. Plush seating, mood setting colors and flooring. You can create any atmosphere you like for your conservatory.