A Guide To Repairing Sash Windows
My sash windows are draughty and need repair, what should I do?
Original sash windows that are draughty and in need of repair do not need to be a burden. There are extensive restoration and refurbishment options to bring them structurally up to scratch whilst for insulation and heat retention we can now install quality draught proofing systems that'll considerably improve the ambiance of your home. These draught proofing systems are non-intrusive and completely invisible when your windows are closed, and what is more, the amount paid for draught proofing almost always offer a good ROI on investment if you find the right company, and in London, for example, there are literally dozens offering high quality services at competitive prices.
Sash window repairs
Common problems with include sash window sill rot, glazing putty perishing, pulley styles that rot, and the sash themselves which will also suffer from decay. These can all be spot repaired and I will go through each one in detail.
Sash Window Sill Replacement
Sash window sills can be replaced and splice repaired when rotten. The process starts by removing the original sill section which is cut out at both ends and then window board is removed. This leaves pulley style and front cheeks which may also be rotten and can be spliced as well. This is a common service in London and many companies will quote for extensive onsite repairs, rather than a replacement.
Once all timber is spliced and removed then a treatment such as Cuprinol Five Star is used to preserve the timber and kill off any remaining Wood Decaying Fungi.
The sill and pulley styles are then spliced and mechanically fixed together. As you can see in the image the sill section goes around the styles to create structural strength.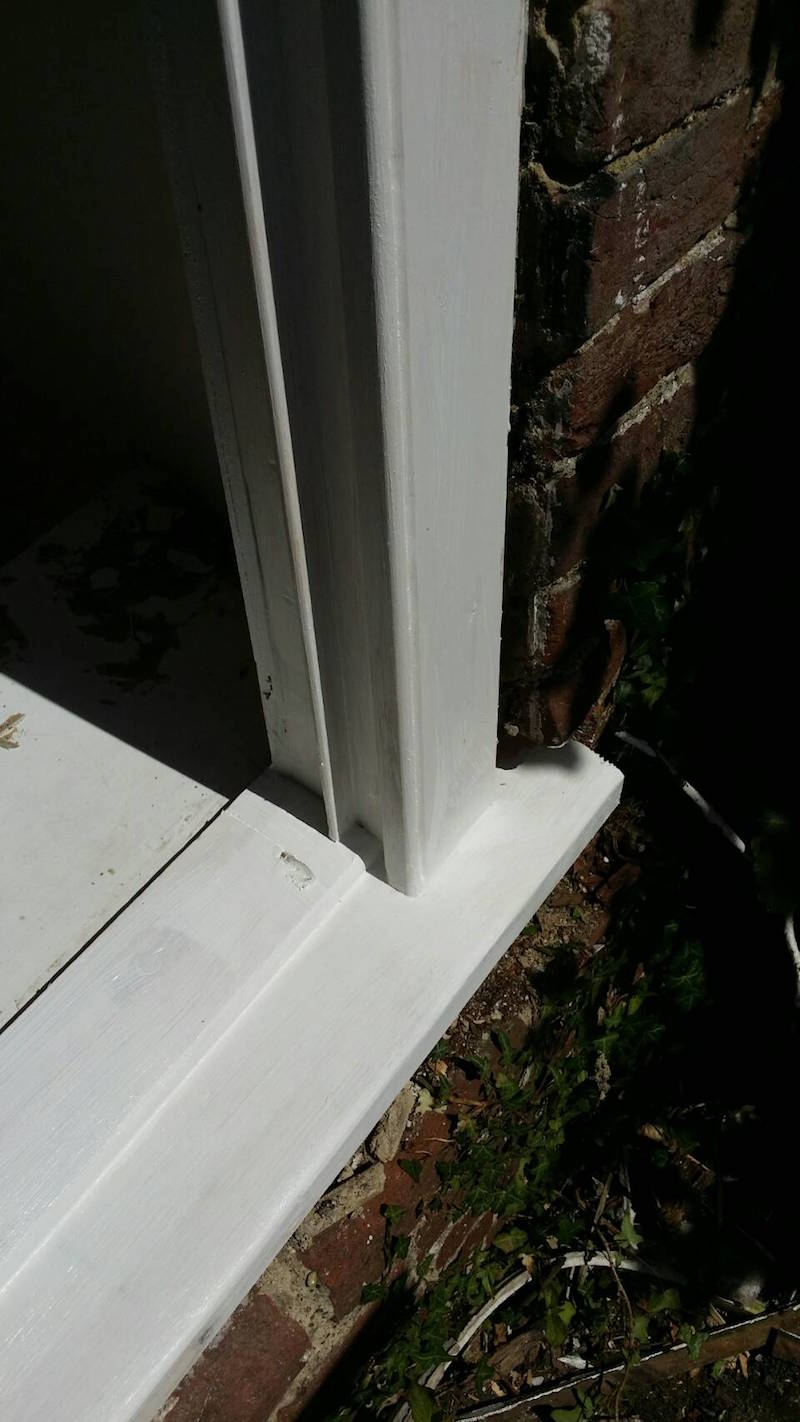 Sash window sill splice repaired. Description: This sash window sill has been removed and then carefully spliced back together.
As you can see from the sill this is an extremely skilled job and the whole remove process and sash window sill replacement service is documented in detail at the link provided.
Once the sill section is rebuilt then it'll look something like the image below. If the installation was a professional job then you might be hard pressed to know the sill has ever been replaced! Further information on window sills can be found in the link provided.
Sash window sill rebuilt, primed and undercoated. Description: This sash window sill has now been rebuilt fully, primed and undercoated, ready for decoration
Typically sash window sill replacement will cost from £120-£180 per window and this represents excellent value for money over entire replacement.
Sash Rail replacement
When sashes are damaged they might not necessarily need to be replaced. If the sash rail is rotten only it can be economical to replace that part alone. The rail is cut out of the mortice and tenon joints and then new rail spliced in its place. This negates an entire sash replacement and will typically cost half of the overall sash replacement cost.
Sash Window Draught Proofing
Sash windows can have a comprehensive draught proofing system install that costs around £200-£250 per window and is known to reduce heating bills by as much as £30 per window, per year. This means that in seven years the draught proofing system will have paid for itself as well as being serviced with new sash cords and replacement locks as part of that price.
The brush piles are hidden and rebated into the sash so that you won't notice any aesthetic change to your windows. Pictured is an example of how the brush pile is rebated and installed into the sash. This makes for a lasting job and when the brush pile perishes, a new draught seal can be inserted into the pile carrier which means you'll never need to pay for a full draught proofing service ever again.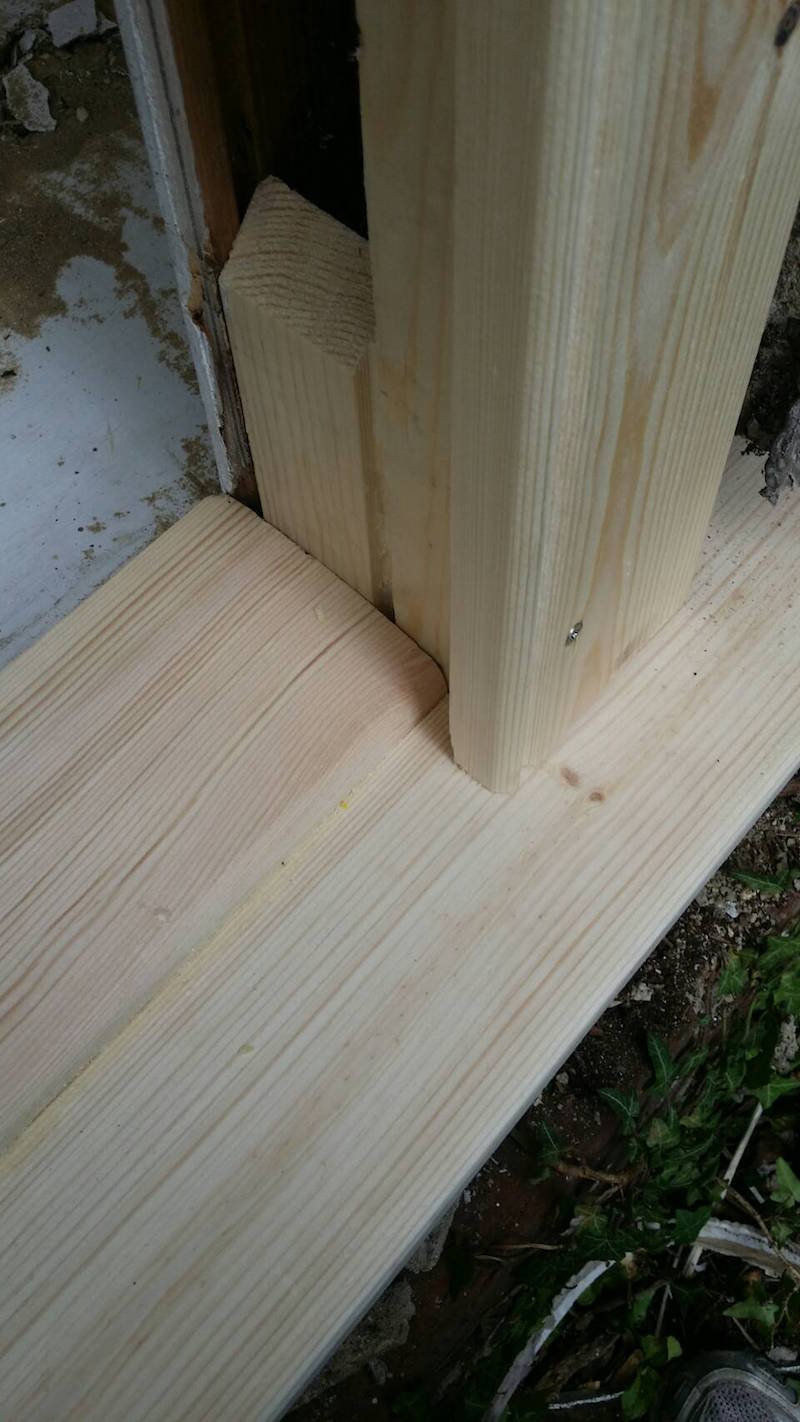 Sash window draught proofing grooved out and brush pile installed. Description: Sash window draught proofing has been machined and then brush pile installed into the sash.
As you can see the system is designed to be unobtrusive and cause as little damage to the aesthetics of period properties. The service is also allowed on conservation and listed properties.
In summary, sash windows that are rotten and cold do not need to be replaced with the modern draught proofing technology and repair methods that are available today.
Meta Description
Original sash windows can have sills repaired and replaces as well as draught proofed leaving your home comfortable and upgraded with modern technology. There is no need
for costly sash window replacement.