Cellar Ideas
10 Cellar Ideas to make yours a dream space
If you're planning a cellar conversion, there are dozens of things you could turn it into. Depending on your available space and budget, you could have something as modest as a spare bedroom to as grand as a swimming pool or home cinema. Here are some ideas to get your brain working.
1) Dining Room
If you entertain often, or just like to eat around a table every night, a dining room in your basement conversion might be just the ticket. In the grand scheme of things, it's one of the more affordable options – all you need is a table, some chairs, and some nice lighting and decorations. Voila, you'll be serving guests in no time. Just be careful on the stairs.
Add space upstairs by moving your dining room downstairs.
2) Library
This is the dream of bookworms everywhere. Again, a relatively easy option. In fact, you might have everything you need already in your home. A nice bookcase that fits the style of your new basement, some comfy seating and lighting that sets the mood.
Tailor a space for your reading.
3) Bedroom
Maybe you've ran out of space upstairs, or maybe you just want pest relatives as far away from you as possible when they stay. Either way, an extra bedroom in your basement conversion is easy to create. We won't even waste your time with the specifics, you know what a bedroom needs.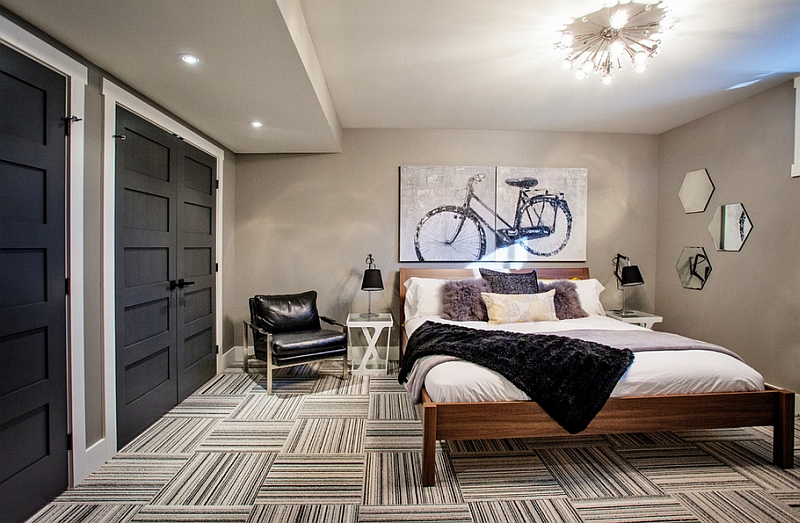 Hide pesky relatives in the basement.
4) Office
Any busy professional knows the value of a home office. Sometimes, it's hard to focus in the spaces in your home, so it's worth creating one that has a more professional environment to boost your productivity. Deck it out in colours and lighting that makes you feel ready to work, and your home office will be ready to go.
Make your basement your office.
5) Nursery
The trick with kids is to contain the mess. Anyone who's tripped over a toy while carrying a fresh cup of tea will tell you that. There's nothing worse than thinking you've done a full clean up only to go next door and find a whole new play area. Giving the little ones a space that's away from valuables and presentation rooms will be great for your cleanliness and your sanity.
Start winning the battle against mess with a basement nursery.
6) Living Room
It's tough to explain why, but the basement living room just feels better than the upstairs one. Maybe it's more cosy, but whatever it is, it's well worth a look. A couple of ways to go here – transplant your current living room to downstairs, or create an entirely new one. As always, it depends on your needs and your budget.
Get the game on with a new living room in your basement.
7) Home Gym
If you breakdown the annual cost of a decent gym membership, you might actually save money building a home gym. You can pick up machines and weights at cheaper than you might think, and once you've got them, they tend to have a long lifespan. It also means you don't have to go to the gym, so there's one less excuse you can fall back on.
Break a sweat, but not the bank.
8) Games Room
Darts, pool, or snooker – each or all of these can be a great way to entertain friends and family in your basement conversion. Always bear in mind though, space is key. A pool table sounds great, until you're doing gymnastics because it's too close to the wall.
Start entertaining right away with a games room.
9) Home Cinema
Watching a movie together is great, but watching one in a home cinema complete with recliners and giant screen is FANTASTIC. There are companies out there that offer a complete service here, completely tailored to your needs. Sunday nights will never be the same after your home cinema basement conversion is done.
Sunday night movie watching will never be the same.
10) Pool
The absolute dream, but probably only fits 5% of budgets and space requirements. This is a huge job, so make sure you take on professional advice and installation services.
For big budgets with big space, a pool is a great option.